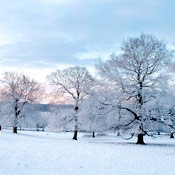 Every winter, those living on limited or fixed incomes face a challenge: paying their heating bills. For young and old alike, higher heating bills can make it difficult to keep up. Every year central Wisconsin residents struggle to make ends meet, and with a still struggling economy, the need is even greater. The state of Wisconsin and Wisconsin Public Service have programs to assist households with there energy costs this winter.
More People May Now Qualify for WHEAP
The state of Wisconsin has announced changes in income guidelines for the Wisconsin Home Energy Assistance Program (WHEAP), making it possible for more people to qualify for help paying their energy bills. Apply early to make sure you don't miss out on your benefits.
Households with income at or below 60% of the Wisconsin state median income (SMI) may be eligible for WHEAP and weatherization services. Many households with income from farms, offices, factories and other work places receive WHEAP assistance and weatherization services.
View the WHEAP Income Guidelines >>>
Wisconsin's Weatherization Assistance Program
If you meet WHEAP income eligibility guidelines, you may also qualify for Wisconsin's Weatherization Assistance Program. The goal of the weatherization program is to save energy by targeting households with an excessive energy burden and that are made up of elderly, handicapped and/or children under 6 years of age.
Local weatherization agencies will contact the highest priority households to evaluate the home and decide what weatherization services are needed. Appropriate weatherization services will be completed by agency crews and subcontractors.
In Shawano County contact Brenda Maglio at 715-526-4740, (see other counties).
Learn more about Wisconsin's Weatherization Assistance Program >>>
---
If you have any questions regarding Family Living in Shawano County, please contact: 
Linda Olson, Interim Family Living Educator
UW-Extension Shawano County
Shawano County Courthouse
311 North Main Street, Room 101
Shawano, WI 54166
Phone: 715-526-6136 * Fax: 715-526-4875
Email: linda.olson@ces.uwex.edu
vacant, Office Assistant
UW-Extension Shawano County
Shawano County Courthouse
311 North Main Street, Room 101
Shawano, WI 54166
Phone: 715-526-6136 * Fax: 715-526-4875
Email: