Chili Popcorn
4 cups popped corn
1 tablespoon margarine (melted)
1 teaspoon chili powder
1/8 teaspoon garlic powder (dash)
Directions
Mix popcorn and margarine in a bowl.
Mix seasonings thoroughly and sprinkle over popcorn. Mix well.
Serve immediately and enjoy with family and friends.
Try other seasonings such as:
Parmesan cheese and oregano for a pizza flavor
Cinnamon with a dash of sugar
Mix in dried fruit like craisins or pineapple and coconut
---
Fruit Yogurt Pops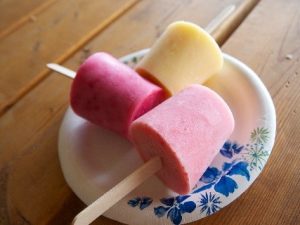 These pops are a fun warm-weather treat that needs only two ingredients. With no cooking, cutting, or special equipment required, kids can learn to make these by themselves.
1 yogurt, pina colada (8 ounces)
2 1/2 cups strawberries (sliced frozen, thawed)
Combine ingredients. Pour into 3 ounce paper cups.
Freeze about 30 minutes; then stick a wooden popsicle/craft stick in the center of each cup.
Freeze overnight until firm. To eat pops, peel off paper cups.
For variety, try other fruit flavored yogurts and frozen fruit or fruit juice concentrates.
---
Mozz Totz
A healthy twist on a deep-fried appetizer, these breaded and baked Mozz Totz are a favorite of kids and adults alike. Served with warm marinara sauce for dipping, they are great for a potluck meal or as an after-school snack.
12 ounces mozzarella string cheese (fat-free)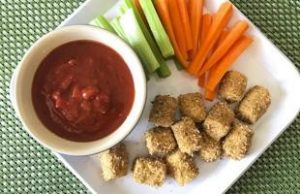 1/2 cup milk (1% low fat)
1/2 teaspoon oregano (dried)
1/2 teaspoon basil (dried)
1/2 cup bread crumbs
1/2 cup marinara sauce (prepared, warmed)
cooking spray (non-stick)
Wash hands with warm water and soap.
Preheat oven to 350°.
Line a baking sheet with foil and spray lightly with cooking spray.
Remove cheese from package and cut into bite size pieces.
In a small non-stick skillet mix oregano and basil with bread crumbs.
Cook over medium heat, stirring occasionally until crumbs are lightly browned, about 5 minutes.
Dip each piece of cheese in milk and then into toasted bread crumbs, coating completely.
Place on baking sheet about 1 1/2 inches apart.
Spray string cheese lightly with non-stick cooking spray.
Bake 5-6 minutes or until heated through. (cheese may melt slightly and lose shape. Simply press it back into place).
Dip in warmed marinara sauce and enjoy.
---
Peanut Butter Bananas
This treat can be made with your kids in the morning, then frozen for an afterschool snack.
2 bananas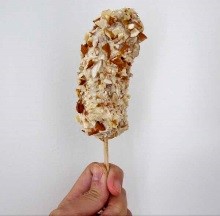 1/4 cup peanut butter
1/4 cup crushed nuts or granola cereal
Spread the entire outside of each banana with peanut butter.
2. Roll the bananas in crushed nuts or granola cereal.
3. Cut the bananas in one inch slices.
4. Store in the refrigerator or freezer until ready to serve.
---
Pumpkin Pudding
No cooking required for this tasty pumpkin pudding. Kids can help prepare with supervision.
1 can pumpkin (15 ounces, or 2 cups cooked mashed squash such as Hubbard)
2 teaspoons pumpkin pie spice (or 1 teaspoon cinnmamon, 1/2 teaspoon ginger, 1/4 teaspoon nutmeg and 1/4 teaspoon cloves)
1/8 teaspoon salt
1 1/2 cups milk (1% low-fat)
1 vanilla pudding (instant, 3.5 oz (small box))
Remember to start by washing your hands. In a large bowl mix pumpkin, salt and pumpkin spice together.
Slowly stir in milk and mix well. Add instant pudding mix and stir for 2 minutes until it thickens. Refrigerate until serving time.
---
Ants on a Log
For each log you will need:
One 3″ piece of celery
1/2 teaspoon of peanut butter
4-5 raisins
Spread peanut butter in the center of the celery stick. Add raisins to resemble "ants" sitting on the log.
---
Drum Rolls
1 flour tortilla
2 Tbsp. peanut butter
chopped apples
raisins
sunflower seeds, shelled
grated carrots
Spread peanut butter over the flour tortilla. Top with apples, raisins, carrots, and sunflower seeds. Roll up tortilla.
---
Peanut Butter Face
1 slice of bread
peanut butter
banana slices
grated carrot (enough to make the hair)
M&M's
raisins
Have everyone wash their hands. Place a plastic bowl upside-down over bread and press to make a circle of bread. Gently tear off the edges. Spread peanut butter over round section of the bread. Use banana slices, carrot, M&M's, and raisins to make a face. Be creative!
.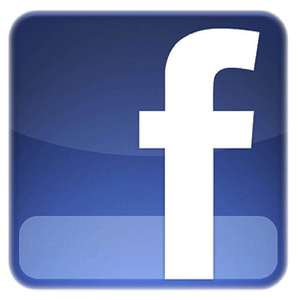 FoodWIse program is now on Facebook!
.
---
If you have any questions regarding FoodWIse in Shawano County, please contact:
If you have any questions regarding FoodWIse in Shawano County, please contact:  
Lori Schuettpelz, FoodWIse Coordinator
Shawano County & Menominee County/Nation
311 North Main Street, Room 109
Shawano, WI 54166
Phone: 715-526-6136 * 715-526-4870
Email:lori.schuettpelz@wisc.edu
Chelsey LaTender, Nutrition Educator
Shawano County & Menominee County/Nation
311 North Main Street, Room 109
Shawano, WI 54166
Phone: 715-526-6136 * 715-526-4870
Email:chelsey.latender@wisc.edu